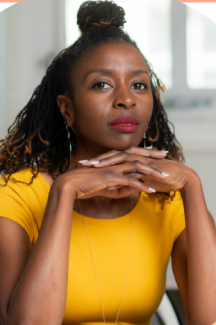 Sabrina Strings
Associate Professor of Sociology
University of California, Irvine
via Zoom
Special Information:
Sponsored by the Sociology Graduate Student Society and co-sponsored with Institute for Women's Studies and the Willson Center for Humanities & Arts
In this presentation, we will discuss the troubled past (and present) of fat stigma. We will consider the role of racism and sexism in its creation and perpetuation throughout the Western world. The presentation will highlight the role of the medical field in its more recent propagation.
Sabrina Strings, Ph.D. is Associate Professor of Sociology and Chancellor's Fellow at the University of California, Irvine. Sabrina has been featured in dozens of venues, including BBC News, NPR, Huffington Post, Medium, Los Angeles Times, Essence, Vogue, and goop. Her writing has appeared in diverse venues including, The New York Times, Scientific American, Ethnic and Racial Studies, and Signs: Journal of Women in Culture and Society. Her book, Fearing the Black Body: The Racial Origins of Fat Phobia (2019), is an NYU Press Bestseller. It was awarded the 2020 Best Publication Prize by the Body & Embodiment Section of the American Sociological Association. Follow Sabrina's latest moves at SabrinaStrings.com and on Twitter @SaStrings.
Departmental Host or Contact: